Warm nights mean open windows, and in the distance we can hear the whistle of the train. The tracks are less than two miles from our house, and in the balmy June air it seems like less.
Dylan leans against the wooden sill, pressing into the screen, disappointed each time he doesn't see the train he can hear so clearly.
He doesn't understand how something can seem so close yet be too far to see with his eager eyes. Hearing the whistle is exciting, but he searches for something more, a glimpse of the speeding cars.
My  writing has been a source of comfort for me: a way to express myself, reach out, and find a community of mothers, writers, runners who have helped me to strengthen and grow in different areas of my life.
Settling in with my words and setting them free has given me strength to appreciate the parts of my life not defined by my role as a wife or mother or daughter, the parts that are solely mine.
And that was enough.
Until it wasn't.
As I spent more time jotting notes and writing and editing, the feeling of contentment with the state of my writing as a hobby started to twist a bit. I spend my Mondays writing about being enough; I complete projects and cross off tasks, yet the feeling lingers.
The feeling that I should be doing more.
The "enough" concept that once gave me so much satisfaction begins to feel like a limit, like a crutch for my fear. There's something appealing about curling up into a comfortable chair, meeting deadlines and posting and interacting with the community I've come to love. But at night, when I don't have the pleasing visual of a highlighted to-do list next to me, I blink in the darkness and consider this place and the meaning we strive to find each day.
Just.Be.Enough wasn't designed to shield our dreams. It's about finding ways to stretch a little, find a place that is scary but not terrifying, a place where my writing can be more than something I do as a hobby.
This Friday, I sealed envelopes and printed labels and mailed off my words to people who didn't ask to read them.
I'm nervous and scared and giddy and have back-up plans for my back-up plans for this story.
Because something I've come to realize on this Be Enough Me journey is that goals involving risks aren't in opposition to the philosophy here. They're simply new ways to test our strengths and find ways to soar.
xo
Angela
We hope you will read, comment, link up,
and explore the stories of others who have linked.
When linking up, please show some JBE love and link back to us
with the BE badge for all to see.
Links to posts not related to Be Enough Me will be deleted.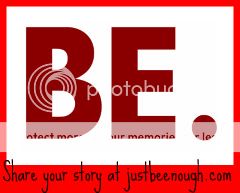 Next week's Prompt:
What you may not know…

Want to make sure that you get the prompts every week
plus all sorts of other Just.Be.Enough. surprises?
Subscribe to our weekly newsletter (coming out every Thursday).