It is time. To let go. To shed. To unattach the labels that have affixed themselves to our persona, to our body, to our family. It is time to dispel the myths of who we are just because of the labels.
I have to admit, I think that I had a harder time with the question of "What is Your Label" than the question of "Things I Like About Me." Narrowing it down to one thing…one label, and dealing with the baggage that comes with said label is not easy.
The conversation that I want to change for myself and those around me is all about numbers. But not the numbers that you might expect.
I have been engaged three times. Ordered three wedding dresses. Three sets of invitations. Three sets of wedding favors.
Those numbers lead to the next set of data points. One failed engagement. One failed marriage. One custody agreement. One child who splits her time between two houses. A second marriage.
Despite the fact that my second marriage is still in one piece (mainly due to my husband being a saint), I still see the looks on people's faces when I mention my past. The eyebrows that curl when I speak of my first fiancé. The questions that linger in someone's eye when I mention having left my first husband. The pity I see in the expressions as I tell of being left by my first fiancé because I had cancer, or how my daughter lives between two houses.
But I am much more than a divorcée. I am much more than a woman who in her lifetime has been proposed to three times. I am much more than the woman who returned one never-used wedding dress, and wore two others.
My numbers do not tell of the learning that happened with each relationship good and bad. The amount of self reflection that took place with each failure. The amount of self confidence that dipped and then eventually was found anew when the time was right.
My numbers do not tell of the love I am trying to model for my daughter. The environment that her dad and I have tried to create so that she still feels like both of her parents are partners despite the divorce papers that say otherwise. They do not tell of the effort that it takes to co-parent with a husband and an ex-husband for the good of a child.
I would not wish a failed engagement on anyone. Or a divorce. But instead of bemoaning my past, I choose to cherish it. Because each of those failed attempts at love made me who I am today. They made me the wife I hope I can be. They made me the mom I strive to be.
Not perfect. Not a failure. Not a woman who cannot seem to make love work.
I am living my life, like a pebble that has been tossed by the wind, weathered by the rain and snow, and warmed by the heat of the sun.
What about you? What label are you trying to shed?
**We are keeping this link-up open until Friday, April 27th.**

We hope that you will participate in this very special Be Enough Me prompt to Change the Conversation by sharing what label you are trying to shed.
As an added bonus, we are excited to be partnering with Hallmark this week to celebrate as we shed our labels and refocus the attention on what is truly important. Us. Hallmark will be giving one lucky linker a Hallmark Crown Store gift card to be used to continue sharing ourselves, our love, our friendship, or even to get one lucky linker started on a card shower for someone they love.
To enter to win: Link up your Change the Conversation post by Friday, April 27th at 11:59 pm ET. A winner will be chosen using random.org. The winner will be notified by email by Sunday, April 29th and will have 24 hours to respond or another winner will be chosen. (Giveaway only open to US residents.)
xo
Elena
It is time to look past the obvious for ourselves and our families.  
We're inviting posts from voices everywhere to share your labels and who you are beyond that. The focus is whatever you need it to be– from our lives as moms, dads, parents, spouses, professionals, survivors, athletes and more. We invite you to join us, to celebrate our strengths, to celebrate our diversity, to celebrate our voices and change the conversation.
We hope you will read, comment, link up,
and explore the stories of others who have linked.
When linking up, please show some JBE love and link back to us
with the BE badge for all to see.
Links to posts not related to Be Enough Me will be deleted.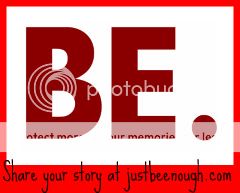 Prompt for next week: This Morning I Looked in the Mirror….
Want to make sure that you get the prompts every week plus all sorts of other Just.Be.Enough. surprises? Subscribe to our weekly newsletter (coming out for the first time this Thursday!).