A couple of months ago, I decided to start looking for a job. It was exciting as I looked at all of the possibilities in front of me. I could try something new.  I could find the perfect place where I was both challenged and could make a difference.
That excitement has worn off.
I've realized that my strange round-about career path through publishing and nonprofits has led to a wide breadth of experience, which has its advantages – but that also means there is no singular strength, which makes it difficult to get into the short stack.
A four year resume gap doesn't help.
The skills that I've developed over the past year through writing and blogging have opened up new options to explore. Thrilling at first, it now often overwhelms as I wonder if I'm looking in the right directions.
During a time when my husband is always on the road and my solo time has dwindled to about 30 minutes of a break (all the while listening to my preschooler jabber from her room), I'm struggling to even find the time to research where I can apply, never mind drafting a cover letter. We won't even start on where the time comes from to write.
It's only been a few months, and I know I'm doing it right by being particular. The wait is difficult, though, as are the calls saying I'm "not enough ___" for the positions. In the meantime, wanting a job has become needing a job.
So I'll do my best to straighten my spine, toughen my skin and stay up a little too late again tonight, my writing set to the side, in hopes of the right home for my work self.
I'll take an epiphany any day now.
xo
Tracy
We hope you will read, comment, link up,
and explore the stories of others who have linked.
When linking up, please show some JBE love and link back to us
with the BE badge for all to see.
Links to posts not related to Be Enough Me will be deleted.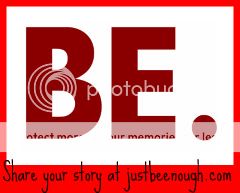 Every MONDAY join us…
Write, Post, Link-Up, share your story and your voice.
Be part of the movement to carry the weight of confidence, & empowerment.
What gives you that "be enough" feeling?