One Saturday afternoon the words just flew out of my mouth. I hadn't planned to say them that day. I think they might have surprised me as much as they surprised him. The divorce wasn't a surprise, perhaps, but the timing, of it that sunny Saturday was. When Harry Met Sally was right, the words just hung there in the air in a comic book speech bubble. I want a divorce. There was no taking them back and I didn't want too. We talked and then he left. And I cried.
I cried from relief.
I couldn't believe that I had done it, as I left the apartment and squinted into the sun. I felt as if I had not only been granted parole but that the governor had reversed my sentence and I was free. Free. No more fights. No more being pushed against the wall. No more things being thrown at me. No more arguments over whether the sky was blue or orange. You can't argue with an addict, their reality is the only reality.
He tried to bargain, every tactic there was, he tried it. Fluctuating between "I'll get help" to "you're a f—ing bitch" to "I can't live without you." Somehow I knew that all he really wanted was his world back together. He didn't want things to change. The way things were was perfect for him. Not for me.
I knew I shouldn't have married him. I was freshly healed from an eating disorder that almost killed me and I was no longer punishing myself, I see now that I went right out and found a guy who would do that job for me. At first he was flattering, fun, my best friend. But as we got further in, there were warning signs that I wasn't strong enough to do anything about. Hindsight is 20/20 and all that. I've learned to live with my part in the destructive play that was our relationship.
That day as I walked out into the sun, I felt grateful. So grateful that divorce was an option for me. It was there all along and all I had to do was reach out and grab the safety line that the law had thrown me. I stuck with the marriage for five years. I tried to make it work. I took (and still do) take marriage seriously.
It's easy to say that my children are the best gift ever. They are my end all be all reason for living. I am constantly amazed at the way they learn and grow. Their smiles heal even my deepest and oldest wounds and then erase the scars.
If it weren't for divorce I wouldn't have them. I worked hard. I got stronger, I was intractable in my demands of the way I be treated from the moment I left. The pendulum swung the other way and I was not exactly shall we say flexible in my relationships shortly after I left. I entered a relationship with a man,  demanded a lot from him and he oh-so-patiently obliged. He had his issues too and together we struggled to figure out how to fight healthily. If his voice raised too much I instinctively braced myself for what was to come, but it never came. He learned not to be so quick to anger, I learned that no matter how mad he was he would never, ever, hurt me.
Then he asked me to marry him and I said yes without a single doubt in my mind and we had the most wonderful wedding. My dream come true. And then we had babies. The most beautiful, smartest, sweetest,most wonderful babies the world has ever known (don't we all feel that way?).
I would have none of this if it weren't for divorce.
The best gift ever.
xo
Stephanie
We hope you will read, comment, link up,
and explore the stories of others who have linked.
When linking up, please show some JBE love and link back to us with the
BE badge for all to see.
Links to posts not related to Be Enough Me will be deleted.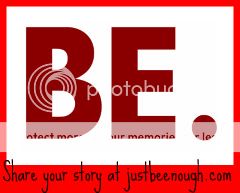 Every MONDAY join us…
Write, post, link-up, share your story and your voice.
Be part of carrying the weight of confidence and share our mission
to empower, inspire, and remind women, parents and children
that the time has come to celebrate ourselves!
Next week's theme: Priorities…



(Remember you can also write on a topic of your choice.)