As a classroom teacher, I began every new year with a focus on discovering, identifying, and understanding my students' strengths. They filled out inventories, reflected, and thought about what they were good at, passionate about, and interested in to better understand themselves.  For some it was easy to list things they were good at.  For others, it was outright difficult and even stressful.  Some were programmed to think that being stubborn or vocal automatically assumed negative personality traits.  But after some discussion, some reflection, each student learned to see the good. And that good? It helped us lay the foundation for all new learning for the academic year.
I am a big fan of focusing on strengths. I do it for my daughter, my students, I even try to find the strengths in the people who I struggle to understand.  But with myself? I often sometimes forget.  I forget that I too have strengths. That I too have passions and interests and things that I do….well.
So in the spirit of a new school year beginning this week, in the spirit of being enough…I thought it would be appropriate to focus on my strengths. 
I am tenacious.  When I want something, I go after it.  Despite the obstacles in my way.
I have an ear for foreign languages.  Italian was my first language, English came second. Later on I studied French and even Russian.
I can see the big picture. Whether it is professional or personal, I look at things with a global, big picture kind of view before diving into the details.
I am a planner, goal setter, and a visionary.
I am an optimist in the face of adversity.
Failure is not in my vocabulary, especially when it comes to personal challenges.
I am a good cook and an even better food tester.
I can reframe a situation when it seems bleak or impossible.
I am patient with the creative brain that is my daughter who makes large creations out of paper and scotch tape and the engineer brain that is my husband that asks a zillion questions about the who, what, where, why, and how.
I refuse to live with regret.  It takes up too much negative energy. And even through my hardest moments, each life nugget has taught me something.
The truth is that we all have strengths.  And yes, we have weaknesses too.  But focusing on the weaknesses does not do us any good. Using our gifts, our talents, our passions, and our strengths can help us see the silver lining, it can make us stand taller, and it can make the impossible seem possible.
And I for one? Would take silver lining and possible over dark, gloomy, and impossible any day.  And that my friends, makes me enough.
—————–
Last week we had 36 people link up an enough-themed post in our Be Enough Me for Cancer campaign and I'd love it if you'd help us boost that number again. For every 20 linked up posts, Bellflower Books will provide a memory book to a woman fighting breast cancer through Crickett's Answer for Cancer, and help bring a smile to courageous women giving it their all, every single day. The link up remains open for three days. No blog? No worries. You can also comment on the post or on the Just.Be.Enough. Facebook page with your own story and be counted.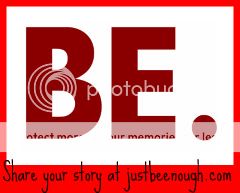 What about you? What are your strengths?
xo
Elena
Every MONDAY join us…
Write, Post, Link-Up, share your story and your voice.
Be part of carrying the weight of confidence, empowerment and share our mission to empower, inspire,
and remind women, parents and children
that the time has come to celebrate ourselves!
How have you have lived the Be Enough Me feeling this week?