Around the time I turned 13 my best girlfriend at the time introduced me to a book. The Giving Tree by Shel Silverstein.
If you're not familiar with it, the book is about a little boy and a tree. The tree, through the years, offers the boy playtime, comfort, shade and then later means of a living; sacrificing parts of itself  little by little  for the boy's good and finally, in the end, having just a stump of itself left offering the old man that boy has become a quiet place to rest.
If you've never read it I encourage you to, because although I believe its intent is younger people there is a lot us older people can gain from it. I mean who hasn't felt like that tree at least once in their life?
I hadn't thought about that book with its apple green cover in a long time, but lately it's been popping into my mind often. The tree reminding me of my different roles in life: Wife, Mom, Daughter, Friend, Writer, Employee. With each day a small part of me is given, offered, sometimes sacrificed for the greater good of someone else. The simple act of giving being more than enough, but sometimes I wonder if in all the giving I lose parts of myself in the process.
I am a giver by nature; and this is after all, the season of it. It is a special magical time of the year for me, when the presents are wrapped in shiny, colorful paper and eyes widen as the gift is revealed. My own eyes sparkling with happiness at the joy it brings.  There is nothing that gives me more pleasure than knowing that some small part of me is the reason for someone else's smile.
Then there are some days that I need a smile, a place to rest or a moment of shade and I look to others and their trees to dispense their branches to me. There is great truth in the saying that "In giving we receive" and I see it all around me as I navigate through my life trying to play my roles every day, sometimes we just need each other.
That is why on a daily basis, when there are not chestnuts roasting or jingle bells ringing, I realize that as a mom, a friend and a wife I have become that tree. A branch here, an apple there or a small pike of leaves in an effort to help others grow, flourish and reach their greatest heights. It is a worthy and happy depletion for me watching them hang out in the shade and comfort of my love. While I could be selfish with my own special qualities, I think it is the act of sharing them that allows my own heart to take root and nourish those other trees.
So that when I am down to my own stump and sure I have nothing left to give, I remember that even that small stump can offer a little something to someone while I work on my own flourishing.
Remember if you have love in your heart, there is always something to give.
Hoping your Holidays are Happy & Healthy this year.
xo
Kir
We hope you will read, comment, link up,
and explore the stories of others who have linked.
When linking up, please show some JBE love and link back to us with the
BE badge for all to see.
Links to posts not related to Be Enough Me will be deleted.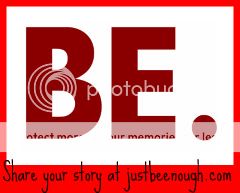 Be Enough Me
What gives you that be enough feeling?
Every MONDAY join us…
Write, post, link-up, share your story and your voice.
Be part of carrying the weight of confidence and share our mission
to empower, inspire, and remind women, parents and children
that the time has come to celebrate ourselves!