The world of direct sales gets a bad rap. There are jokes made at its expense on television shows and women turn up their noses at making a living in jobs where you have to "hock your wares to unsuspecting friends and family."
I get it. People tend to criticize what they don't understand.
I'm here to tell you firsthand that not only is working for the right direct sales organization an incredible way to make money, it also can provide fantastic training in how to be a better businessperson, leader and person in general.
I've recently started a business. For years, I've been getting by on freelance money from odd writing jobs. Both of these things require a level of training, knowledge and perseverance I can assure you I did not have before I was a saleswoman for "those types" of companies.
It didn't matter what I was selling, the training that came with it was incredible. I learned about marketing. I learned about sales. I learned about the organization and systems necessary to run a business out of my house. I learned more from my direct sales life than I ever learned in school. I left my DS life behind a few years ago because no matter how great the companies were (there were two) they just weren't a perfect fit for me and what I wanted for my life.
And that is what I really learned from the women I encountered in direct sales: Don't settle. There is room for all of us to follow our dreams and if you're willing to work hard, get back up after falls and believe in what you're doing so strongly that your conviction emanates from your pores, then you will live the life you imagined, or maybe never even could.
The women I met — from all over the world — were walking proof that we can have it all, including our dreams. They were successful. They were powerful. But more important to me, they were kind and compassionate and always willing to go an extra mile for people. They didn't have to act like men to be wealthy. They didn't have to back stab to rise.  They were proof that feminine power is unstoppable and need not be dismissed in order to move ahead professionally.
My direct sales mentors (one specifically) constantly fed me with their belief in me until I believed I was as great as they kept saying I was. One woman I'm indebted to nurtured my confidence, all the while filling me full of the information I would need when my confidence finally kicked in and I could do it alone. She showed me, as any great mentor should, how to live the life of my dreams. She was someone I admired, looked up to and desperately wanted to emulate. She lived a life I wanted to reach for and then she went to work teaching me what I needed to make me believe I could.
I'm no longer under the wing of my mentor. She may even be upset that I left her nest after all her hard work, but I dearly hope not. For it is because of that hard work that I am pursuing the life I love. She is the reason I know I will succeed and the reason I am able to get back up from a fall.
I believe mentors are a necessary component to success, in business and in life. I'm so lucky I found one to teach me about both, in the "crazy" world of direct sales.
xo 
Cristie
We hope you will read, comment, link up,
and explore the stories of others who have linked.
When linking up, please show some JBE love and link back to us
with the BE badge for all to see.
Links to posts not related to Be Enough Me will be deleted.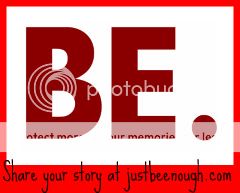 Next week's Prompt:
What is the One Thing You Wish You Knew Then….that You Know Now?

Want to make sure that you get the prompts every week
plus all sorts of other Just.Be.Enough. surprises?
Subscribe to our weekly newsletter (coming out every Thursday).