Dear 16-year-old me,
You've got a pretty sweet life and right now it feels like the whole world could be yours. After coming back from a four-month exchange in Germany I know you're consumed by conflicting feelings of wanderlust and wondering if you have what it takes to make it in the much smaller world of high school.
I'll give you a hint: You will get to travel more, so don't worry. And you do have what it takes, though you won't really know it for years.
And one more thing: It doesn't matter what I tell you now. You have to live it to learn it.
I could tell you all about university and how you'll make it through even though at first it feels impossible. I could tell you about one guy you'll think is for you and how it will kind of suck that it doesn't seem to be working out that way, but that would ruin the experience of meeting your one true love and knowing he is actually the right one. And if I told you about the early days of searching for your career, it might make the experience less frustrating but it won't help you understand what it is you're meant to do.
I want you to learn these things for yourself. In fact, that's how it works. I can't tell you – you have to live it to learn it.
And you will. You'll live things you never imagined and learn things you wouldn't have thought mattered. You'll figure out that it's okay to be who you are and to express that in ways that are meaningful to you. You'll find your confidence only to have it yanked right out from underneath you and, after the hardest experience of your life, you'll know what it means to be grateful for the tough stuff.
You will understand, as only those who have been through a hard time can, that you can find treasure in pain and that there's beauty in the breakdown.
Don't be scared. Remember – life isn't meant to be easy. It's meant to be lived. So go out and live the life you're meant to. It's the only way to find out what matters.
I'll give you a sneak peek: This is you (us) today at 18 weeks pregnant. It's not the first child,
and you're older than you thought you'd be when having kids, but it's all good.
xo
Robin
We hope you will read, comment, link up,
and explore the stories of others who have linked.
When linking up, please show some JBE love and link back to us
with the BE badge for all to see.
Links to posts not related to Be Enough Me will be deleted.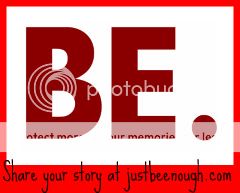 Prompt for next week:
What 10 things do you NEED for your Be Enough Journey?

***Or….feel free to link up with a more open ended "Be Enough Me" story***
Want to make sure that you get the prompts every week
plus all sorts of other Just.Be.Enough. surprises?
Subscribe to our weekly newsletter (coming out every Thursday!).