This week we asked you to respond to the prompt "When I look in the mirror…"
I have been thinking about this prompt for days. DAYS. Because I could probably write an entire book just from this one prompt. (Don't worry, I am not going to do that here.) But something happened to help me decide which angle I finally wanted to take. The "thing" was a tweet from a Just.Be.Enough. community member who responded to my reminder of the prompt with:  "i don't know if i can complete that sentence nicely. (about myself)"  The tweet reminded me yet again of WHY Just.Be.Enough. exists. Because we are not good at noticing the good things about ourselves. The beauty. The kindness. The ability we have to do just about anything we set our minds to.
Except that, if you are like me, sometimes we forget to see the good things. Sometimes that journey to being enough has road closures or detours that make seeing the good things a bit harder. I realized after seeing that tweet that I needed to take a better look at what I'm seeing when I look in the mirror.
One View from the Mirror
I spent a LOT of time in front of the mirror yesterday. At the hair salon I sat down in my hairdresser's chair, armed with images saved on my iPad of cuts that would transform my mop. I wanted a new look. I need something bold. I needed some funk. A fresh look. A bolder color. A snappy pixie cut. In other words…anything but ME.
Later that afternoon, I spent time in and out of dresses in a fitting room at my favorite Nordstroms attempting to find an outfit that would make me feel FABULOUS and wonderful on stage next week during the Listen to Your Mother show where I will be reading. Nothing with too bold of a print. Nothing sleeveless because my arms could not pull it off with their lack of muscle. Nothing that would accentuate my upper body. With dress after dress I found faults. With dress after dress I thought to myself, "Not even Spanx will help this dress."
I got my snazzy new hair cut. I love it. And I found a new dress. I love that too. Almost. Truth be told…I love the idea of the dress but am not actually sold on how the dress looks on ME. As I sat discouraged in the fitting room, I realized something very important as I tried on my umpteenth dress surrounded by mirrors. The truth of the matter was that NO DRESS was going to make me feel fabulous or amazing or stand taller with pride and confidence…unless I started to feel it on my own. Just BECAUSE.
Another View from the Mirror
Which brings me back to the idea of looking in the mirror. I could go on and on about the things I see in the mirror. The gray hairs. The bulging instead of toned abdomen. OR, I could focus on what lies beneath those things. The woman I am trying to be. The woman who tries to learn from her mistakes, detours, or floundering.
The woman who is stepping outside her comfort zone to make a HUGE career switch. The woman who is setting foot on a stage in one week to share her story with a REAL audience. The woman who is getting over a major life event to get healthy and fit once again. The woman who tries her best.
I NEED to believe in that view of myself. Because if I don't believe in her, who will?
That woman…that me. The one I see out of the corner of my eye, underneath the new bolder, red-colored pixie cut. The one who lies within the muscles that are being woken up after a winter of sleeping dormant. The one who sometimes makes a choice to be ok with "less than."
A new haircut and a great dress do not make me who I am. They are not going to change the me that is hidden by the woman I see in the mirror. They might help…but with just a bit of effort, I can dig a little deeper to look past the initial reflection, to find and honor the REAL me that is lying within.
xo
Elena
We hope you will read, comment, link up,
and explore the stories of others who have linked.
When linking up, please show some JBE love and link back to us
with the BE badge for all to see.
Links to posts not related to Be Enough Me will be deleted.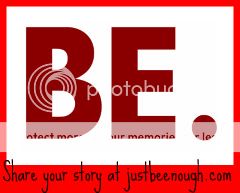 Prompt for next week: My Dream Day…
***Or….feel free to link up with a more open ended "Be Enough Me" story***
Want to make sure that you get the prompts every week plus all sorts of other Just.Be.Enough. surprises?
Subscribe to our weekly newsletter (coming out every Thursday!).