Preparations for the London 2012 Olympics are in full swing around the world, so it seems appropriate that this week we're taking on the idea of living like a champion.
Except, what does that mean exactly? What is a champion?
In my head, I have notions of what it looks like and feels like to be a champion. And frankly, lately I have felt far from a champion.
Frustrated with my rising numbers on the scale and my lack of progress on my quest to regain my fitness, I have felt disillusionment and sadness more than pride and joy. Making mistakes and forgetting things as I have tried keeping too many balls in the air has me feeling more like a ping pong ball than someone deserving of praise.
But then it hit me. Living life as a champion does not mean being successful or happy all the time.
Living life as a champion means much more. And much less.
Maybe it means that we defeat the voices in our heads that try to tell us we are not enough. Or that we can't do something.
Maybe it means that we stand strong for what we believe in.
Maybe it means that we get up each day and keep trying.
Maybe it means that each one of us has the potential to have an inner champion. Without any medals hanging around our neck. Without a place on the podium to be recognized for our achievements.
My inner champion pushes me to get back on the treadmill even when I have been off for one week. My inner champion tells me that the point of my upcoming trip to Italy is not how I look on the beach in a bathing suit, but the memories that I make with my family. My inner champion thrives when I take a stand and advocate for More Birthdays and self sufficiency in others. My inner champion shushes the voices that question my writing ability and future livelihood as a freelance writer.
My inner champion, like Olympic athletes, has good days and bad days. But she is there. Strong and resilient, knowing that there is always tomorrow.
xo
Elena
We hope you will read, comment, link up,
and explore the stories of others who have linked.
When linking up, please show some JBE love and link back to us
with the BE badge for all to see.
Links to posts not related to Be Enough Me will be deleted.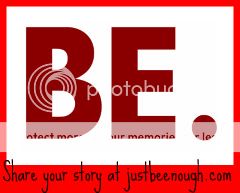 Next week's Prompt:
When Enough is Not Enough

Want to make sure that you get the prompts every week
plus all sorts of other Just.Be.Enough. surprises?
Subscribe to our weekly newsletter (coming out every Thursday).