Hard Things.
For every person that list is full of things that include everything from surviving a childhood trauma to the simple act of saying no to your children or cheesecake. We, as human beings, endure and evolve because of our "Hard Things. They tend to teach of us valuable lessons and mold our character simply by having us make choices that are outside our comfort zones.
When I thought about what to write about here in this space, I had lots of options to talk to you about. My childhood of domestic violence, flunking out of college and needing to return much later than I expected, the four years of infertility that stole some of my optimism and the fibromyalgia and migraines that have plagued me ever since the birth of my sons. Even parenting gets filed under "hard stuff" these days, because working and writing while trying to raise amazing young men is HARD, my friends.
But you know that.
The truth is that when I looked at my list, I realized that for all of these things, the hardest thing I've ever had to do all boiled down to one thing.
I need to know the end result. I need closure and hope that everything will work out. I am not a planner, but I actually need to know the plan.
Up until about a year and half ago, I had a very bad habit. I would open a book, settle into the first chapter and story and then turn to the last chapter and read. My heart pounding with shame mixed with curiosity, my breathing only slowed when I could return to the  rest of the story knowing the conclusion, when I didn't need to predict an ending.
Movies, TV shows, books, LIFE.
The Hardest Thing I ever have to do is WAIT without knowing how things are going to turn out. So when I made the decision to stop reading that last chapter, I felt the free fall of my stomach for months. I wanted to turn to that last chapter. I wanted someone to share the conclusion, good or bad. I didn't care – I simply wanted to be prepared and to know.
Thinking back everything would have been so much easier with the answers. My childhood would have bearable if I had known that I would sit here today telling you I was ok and whole despite it. My extended college career would have been less shameful knowing that the diploma would hang on my wall. And the infertility, well honestly, if someone had told me that in the midst of the scheduled sex, the depression, the betrayal of my own body and the feelings of unworthiness of being a mom that I would someday hold my babies in my arms – that it would take YEARS but I would cradle and name my sons, well, I would have endured anything to get to that promised land.
I think that's why I hold so much HOPE in my heart, why I am determined to remain optimistic. Because my life and my "hard things" have taught me that many times the end is really only the beginning of yet another story, with another ending I sit and wait patiently for.
How about you? What is the hardest thing you've ever had to do?
xo
Kir
We hope you will read, comment, link up,
and explore the stories of others who have linked.
When linking up, please show some JBE love and link back to us
with the BE badge for all to see.
Links to posts not related to Be Enough Me will be deleted.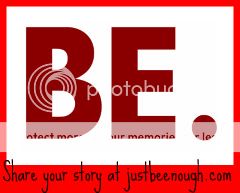 Next week's Prompt:
All about Mentors….Do you have one? Are you a mentor?

Want to make sure that you get the prompts every week
plus all sorts of other Just.Be.Enough. surprises?
Subscribe to our weekly newsletter (coming out every Thursday).