I, like most of us, come with a bagful of insecurities and fears, built up over years of life experience and perceived failures.
Some of them are about my physical self. After 36 years and two kids, my body has changed. My frame is wider, as are my hips. The softness continues to move down my torso as even new pants fit tighter. Stress and hormones sometimes now make me shed my hair like crazy, my part widening and the creases around my eyes seem to deepen and spread daily.
But I'll let you in on one thing that I secretly like about myself: My hands.
My hands are not attractive – they never were. When I was young they were bony and cold. As I've gotten older, they've only gotten worse.
They have…
Several fingers on each hand that are curved strangely.
Raised lines from puppy's teeth years ago.
A scar from cutting out a birthmark whose edges became too dark and irregular to feel safe.
A circle of fleshy scar tissue from a baking attempt gone awry.
Dry, taut skin from heavy exposure to cleaning products.
Random cuts and aging wounds I don't remember inflicting.
A bruised finger and nail from closing a window too quickly.
Short, unmanicured nails that frequently break.
And yet, I love them. They are hands that aren't afraid to get dirty.
They have…
Taken care of a house to make it a home for my family.
Soothed cries and bandaged wounds.
Hauled boxes as I paid dues at my first job, and when I moved out for the first time.
Carried tables across fields for nonprofits.
Greeted, cheered… and even done that NKOTB wave.
Handled tools clumsily as I learned how to be a homeowner.
Played volleyball, assaulted heavy- and speed-bags and attempted golf.
Absorbed falls.
Held loved ones close and protected them.
Provided meals and care.
Endlessly scribbled, typed and marked with pen.
Each time I fall, these marred hands are what dust the dirt off so I can start again. These hands – they have stories to tell.
xo
Tracy
We hope you will read, comment, link up,
and explore the stories of others who have linked.
When linking up, please show some JBE love and link back to us
with the BE badge for all to see.
Links to posts not related to Be Enough Me will be deleted.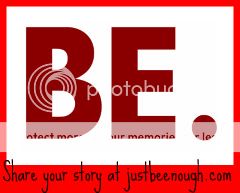 Next week's Prompt:
A Path Not Taken

Want to make sure that you get the prompts every week
plus all sorts of other Just.Be.Enough. surprises?
Subscribe to our weekly newsletter (coming out every Thursday).