I have a confession to make.
Doing good or social action was always something I believed in, but not always something I participated in.
I remember being young, probably in elementary school, and watching the Jerry Lewis telathon. I asked my parents if I could contribute some of my own money. But other than that, my experience related to doing good as a child, young adult, and even until a few years ago has been more about participating in food-clothing-book drives or giving money when I could. But there was never a feeling in my stomach that ignited a drive to do more.
Except that somewhere along my journey as a mom, as a cancer survivor, as a woman trying to find her own purpose, I realized that it was not enough to stand on the sideline as an occasional participant.
If I wanted my daughter to understand what it means to give back, she needed to see me doing it intentionally instead of haphazardly.
If I wanted as a survivor to help create a world with less cancer, I could not just sit back and hope that research and support for patients would be funded on their own.
If I wanted to find my purpose I could not just sit back and be involved in the organizations my friends were involved in without thinking about my own passions.
So I started being intentional. Focusing my efforts. Talking about what giving back and social action mean. And I realized that social action is actually a core part of my being…because being involved in social action means fostering self-sufficiency in others. By giving back in meaningful ways, whether of our time, our voice, our money, or our actions, we are giving others the tools they need to build sustainable progress.
Because, you see, I am picky about my social action. I would much rather use my voice in a way that will teach something or provide a starting point for an individual as opposed to offering a drop in the bucket that they are not sure how to maintain.
I suppose that is what I loved about being a teacher. I saw myself merely as a facilitator of learning for both the students and the educators and parents that I worked with.
Which is why I support causes and efforts like More Birthdays, Shot@Life, and the work of Bloggers4Haiti with every fiber of my being.
I know there are people out there who question the effort and the impact. Does money really go where it is supposed to go? Does one person really make a difference? The truth is that each of us has the power to be enough by just getting involved. The fact that I wrote a post last week that on its own will give 231 children a Shot@Life because of the individual people who took the time to write a simple comment? The fact that my post is part of the bigger Blogust campaign to give 10,000 children the vaccines they need? Yes, it is enough.
And the fact that more can always be done? Instead of being discouraged, I am inspired by knowing there is more to do. That we have a chance to make an impact every day. Some days the impact will be small. Some days it will be big. But hopefully, each impact is teaching one more person to fish – independently, successfully, and for a very long time.
It is more than enough.
What about you? What cause do you hold close to your heart? How do you teach others to fish? 
xo
Elena
ps….You can make a difference too, with a simple comment in the Blogust relay. Day 20 is being hosted by Julie Marsh. Go read, comment, and give a child a Shot@Life.
We hope you will read, comment, link up,
and explore the stories of others who have linked.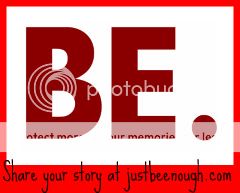 Next week's Prompt:
Ummm….

Want to make sure that you get the prompts every week
plus all sorts of other Just.Be.Enough. surprises?
Subscribe to our weekly newsletter (coming out every Thursday).