My legs felt tired. Heavy. My hamstrings moaned a little with every step. Not loudly, but just enough to register in my brain and to make the little voice of insecurity just a little louder. The little voice that tells me I am not a runner. The little voice that tells me I am slow. The little voice that tells me I am crazy to think I can finish a half marathon in three weeks.
This little voice is one that has taken residence in my brain before. It lived there, in the lap of luxury, during my first summer of marathon training in 2001. It thrived on my long training runs around the lake, where the other runners from my group would lap me, over and over again. It thrived even more when my attempts to run took an extended hiatus. Attempting to come back from a long rest, a long period that always resulted in additional pounds of flesh on my body. My little voice became not so little and at times was the only thing I could hear.
And yet, I kept going. I kept calling myself a runner. And every time I reached my goal I visualized myself saying "so there" as I crunched the little voice under my foot.
Every time I found something that would help me push through.
Often my something was the voice of my oncologist explaining the lung damage I had suffered from my chemotherapy.  "You will never run a marathon," he said.
Other times I visualized the students in my class who persisted no matter what they faced, no matter how hard it was.
Other times I thought of how one day in the future my grandchildren would look at my race medals and pictures and maybe, just maybe, take on their own challenges.
Most of the time, these "somethings" helped. Sometimes, though, they didn't. Sometimes I would cry my way through a training run or even race. Sometimes I would beat myself up for not having given it my all.
And yet, I kept going.
Because running to me is more than just running. As much as my little voice can bring me down, the act of running makes my inner warrior scream. Running reminds me that I am in control of my life. It reminds me that I can overcome or accomplish anything. It reminds me of strength, of courage, and of sheer determination. It reminds me that I can get back up from a fall. It reminds me of the people in my life who have believed in me. It reminds me of who I really am.
Running keeps me healthy. Not just physically, but emotionally. I stopped running and biking and swimming after my triathlon because of my elbow surgery. Two weeks without those reminders left a space. A space for that little voice. A space for my inner demons to peek through. A space where I could very easily lose me.
And so in three weeks I will run my half marathon. I will ignore the little voice that mocks me. The one that tells me I did not train enough. I will ignore the voice and I will focus on what I know. I will know going in that my time will be slow. I will know going in that I will have to walk parts of the course. But I know I will cross the finish line running. I know I will cross the finish line smiling.
And that will be enough.
—————-
This is our very last week to make an impact for Be Enough Me 4 Cancer. Last week we had 45 people link up an enough-themed post in our Be Enough Me for Cancer campaign and I'd love it if you'd help us boost that number again. For every 20 linked up posts, Bellflower Books will provide a memory book to a woman fighting breast cancer through Crickett's Answer for Cancer, and help bring a smile to courageous women giving it their all, every single day. The link-up remains open for three days. No blog? No worries. You can also comment on the post or on the Just.Be.Enough. Facebook page with your own story and be counted.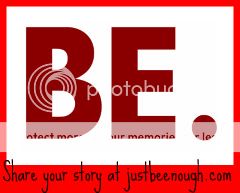 xo
Elena
Every MONDAY join us…
Write, Post, Link-Up, share your story and your voice.
Be part of carrying the weight of confidence, empowerment and share our mission to empower, inspire,
and remind women, parents and children
that the time has come to celebrate ourselves!
How have you have lived the Be Enough Me feeling this week?