"The greatest love of all, is happening to me. Learning to LOVE YOURSELF, it is the greatest love of all." –W. Houston
Love is in the air with Valentine's Day fast approaching. Cards, flowers and chocolates will be gobbled up and given to show our friends, families and lovers how much we care about them. Call me selfish, but I wish every day was like that instead of one cold day in February.
Do you know how Just.Be.Enough got its start? Our amazing founder, Elena, was inspired by a post she read and turned it into a blog meme about things we like about ourselves. She challenged us as women to dig deep inside all the self doubt, the self critique, and find the parts of ourselves that make us proud, that make us smile, that define us.
It was a SENSATION.
Women wrote, shared and read the lists of one another celebrating the big stuff and the little things that made us such a rainbow of diversity while uniting us in our evident sameness as women and bloggers.
It was truly an exercise in HOPE and ACCEPTANCE.
I, too, wrote my own list celebrating what I thought was good and worthy about me. But I wonder if, like me, after all these months, sometimes you start to question yourself or begin to feel like you might not be enough?
I believe you might, for we all have days of doubt, moments of mediocrity and times of turmoil when we just can't put our faith in ourselves or our abilities. We look around comparing ourselves to others and leave feeling like we never quite measure up.
For Valentine's Day, I challenge you to start from scratch to dig out that list you made months ago and read it or, if you never made one, to give yourself a Valentine's Day gift and put pen to paper or fingers to keyboard and find yourself, celebrate the things that make up the unique and valuable person you are and hit save or tape it your bathroom mirror for those days you need a little reminder of the beautiful stuff inside you.
The old adages and clichés have never been truer than they are in this season of love. Until you learn to love yourself, nothing will make sense and you can't truly love someone else. In the midst of all the sweet expressions the next few days will bring us, write a love letter to yourself and remember that you are enough, just the way you are.
For the greatest love of all is truly falling head over heels in love with yourself and there really is no better time than the day the whole world celebrates LOVE to start.
xo
Kir
We hope you will read, comment, link up,
and explore the stories of others who have linked.
When linking up, please show some JBE love and link back to us
with the BE badge for all to see.
Links to posts not related to Be Enough Me will be deleted.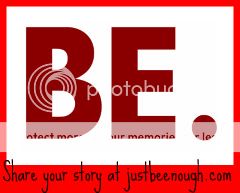 Every MONDAY join us…
Write, Post, Link-Up, share your story and your voice.
Be part of carrying the weight of confidence, empowerment and share our mission to empower, inspire,
and remind women, parents and children
that the time has come to celebrate ourselves!
What gives you that "be enough" feeling?