People say that hindsight is twenty twenty. And it is true, it is almost impossible to live life without learning new things. As my third BlogHer becomes a distant memory, I find myself thinking about where I was one year ago at this time.
Training for the Iron Girl sprint triathlon I remember going to swim laps one evening. My husband was out of town for work and my daughter was with my ex-husband. Lap after lap I swam with my goggles that continued to fog despite my best intentioned efforts. I remember that I lost track of the number of laps because my mind was elsewhere. Because my mind was thinking about how to continue the momentum that was the inception of Just.Be.Enough.
From a simple prompt asking people to dive deep getting a little raw, to enumerate the things they liked about themselves, a site was born. A place that people would come to when they needed reassurance that their imperfections were not only part of who they were, but also a symbol of living life.
What I did not know one year ago is this simple site built on a simple premise, could mean so many things to so many people. Or that my story would become defined by that day in the pool, swimming laps. The idea that was born swimming up and down the pool that day changed the direction of my life.
Suddenly my big picture was broader. An imaginary umbrella was taking shape, containing the concepts and passions that would give new focus to my path. A path of peeling back layer after layer, revealing a raw new reality.
The fact of the matter is, you never know when that moment is going to strike. The moment that you make one decision that will be so impacting that your whole life changes. It is easy to look back and wish that we had known something. But in reality, the power of being raw, reflective, and passionate is absolutely unpredictable.. And…if I am being truly honest, had I known the power of that moment in the pool and the impact it would have on my life, chances are good that things would not have turned out the same way as I would have over though, over planned, and essentially killed the magic of the moment.
What about you? What is one thing you know now that you wish you had known then?
xo
Elena
We hope you will read, comment, link up,
and explore the stories of others who have linked.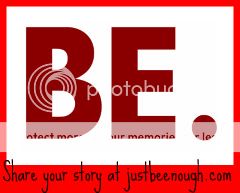 Next week's Prompt:
Join us for the first JBE Anniversary with a special Be Enough Me:
Create Your Own Self Portrait.
How would you represent yourself? 
*inspired by Karen Walrond and Xanthe Berkeley

Want to make sure that you get the prompts every week
plus all sorts of other Just.Be.Enough. surprises?
Subscribe to our weekly newsletter (coming out every Thursday).