Self portraits are not a new thing.
But when you try to represent yourself…it can be a little scary. A little daunting.
There is a risk when you peel back the layers and think about what image to pick to symbolize yourself. Deciding between a figurative approach or a literal approach. Deciding whether to go big picture or the immediate present day you.
So this week, we are bringing you not just one self portrait, but several….
Chrissy…
Missy…
Robin…
Kir…
Stephanie…
Elena…
And Angela…
What about you? What does your self portrait say about you?
To celebrate Just.Be.Enough.'s one year anniversary, this extra reflective Be Enough Me will last ALL week. Take some time. Look through your photo albums (or um, the camera roll on your phone).  Get creative. Then join us as we peel back the layers that protect us.
xo
Elena & the entire Just.Be.Enough. team of
Robin, Tracy, Angela, Kir, Missy, Stephanie, Chrissy, & Cristie
This prompt idea was inspired by the work of  Karen Walrond and Xanthe Berkeley.
We hope you will read, comment, link up,
and explore the stories of others who have linked.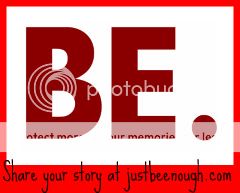 Next week's Prompt:
What cause do you hold close to your heart?
How does it relate to your journey to being enough?

Want to make sure that you get the prompts every week
plus all sorts of other Just.Be.Enough. surprises?
Subscribe to our weekly newsletter (coming out every Thursday).