Confession: I came up with this prompt and I've been staring at a blank screen for two days. I've got nothin.'
Is that because I'm a chronic oversharer? (Quite possibly.) Or do I have issues I'm not prepared to address? (Entirely likely.)
For some people, the prompt "what you may not know" might be a total non-starter. If there are thing others don't know there's probably a good reason. After all, despite what some people think, bloggers do have boundaries.
I don't share a lot about my marriage.
I don't blog about my work.
I don't write about my girly bits or any of the associated functions.
Why not? I just don't. Those are my boundaries, though for others those topics are fair game. And honestly, I'm glad some people write about those things because it gives me perspective I wouldn't otherwise have.
Maybe that's why I write about depression and other mental health issues. It's why I admit that sometimes the cute women in the gym bother me. It's why I'm not scared to admit that sometimes I think I'm the worst mother on the face of the Earth who isn't a drug addict (and even then…) and why I'm scared to do it again. Because I hope that in doing so I'm helping someone else feel a little bit less alone.
So I guess that's what you may not know: I write about some pretty personal stuff, but there are things I don't share. Maybe one day I will, but maybe not (I really think my girly bits will choose to stay a mystery).
And really, that's all you probably need to know.
xo
Robin
We hope you will read, comment, link up,
and explore the stories of others who have linked.
When linking up, please show some JBE love and link back to us
with the BE badge for all to see.
Links to posts not related to Be Enough Me will be deleted.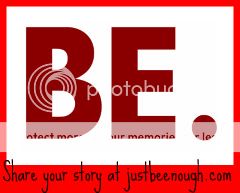 Next week's Prompt:
What do you secretly like about yourself?

Want to make sure that you get the prompts every week
plus all sorts of other Just.Be.Enough. surprises?
Subscribe to our weekly newsletter (coming out every Thursday).