Five days in Haiti. Many introductions of who I am, what I do, what is important to me. Building capacity became a mantra for our trip, for what is important in my life, and in what I saw as my eyes met the faces of the artisans, women, men, and children I met each day. I was told I had a gift…the gift of not being afraid to feel. I was told that my story resonated with others.
But…I was also told that I needed to drink the Just.Be.Enough. "juice" myself during a moment where I felt everything BUT enough.
We were in Jacmel, a seaside town home to artists who create stunning papier mache pieces. Artists who want nothing more than to learn to produce their treasures more efficiently. Artists who want to to make a sustainable living for themselves and their families. Artists who want to send their children to school, despite the high cost of private school.
Our hotel was high up on a cliff, with a path of stairs leading down to a water's edge that in the early morning was filled with boats and men heading out to fish.  We simply had to explore this landscape, to breathe it all in, such a contrast to the busy city of Port au Prince where people crowded the streets in every direction.
So we went. Down, down, down. We took in the spray of the sea against the rocks. We looked for shells as a reminder of where we were. But then it was time to go back up.
Those stairs were long. And my no-longer-fit body struggled. Sweat dripped down my neck and my breathing pattern changed. No longer was I the triathlete or runner who could run a half marathon or hike a rugged path. I felt weak. I felt sad.
Later, while breakfasting at the stunning home of Pascale Faublas, a renowned artist whose artistry and chic style ooze out of everything she touches, a picture was taken of me laughing. A picture taken by the hands of world-class, widely published, highly gifted photographer Swoan Parker.
To her, the picture spoke of joy, of happiness. To me, all I saw was the weak woman who could barely climb the steps. I wanted to see the joy she saw. I wanted to believe in the moment of laughter she so skillfully caught on camera. But instead, I cried.
Which is when a very wise member of our group said, "You need to drink some Just.Be.Enough. juice."
She was right of course. Here I was, on the trip of a lifetime, meeting people whose faces and hands spoke of resilience and survival despite a tragic natural disaster. A trip where every single interaction with an artist, child, man, or woman took my breath away due to the sheer depth of passion and thirst for independence that shone through their expressions.
I may not be as fit as I once was. I may not be as strong as I once was. But, in these five days, I was able to be a part of something simply magical. Something that will live on in our hearts and minds, and in our actions as we prepare for a long-term commitment to being a part of sustainable growth in Haiti.
My moment of insecurity and weakness is a bit embarrassing compared to what has happened in Haiti. But it is also who I am. And if I learned nothing else from the many faces I met during the trip, I learned we need to be proud of who we are. We need to believe in hope. Resiliency. Dreams. We need to believe in a future filled with possibilities.
 xo
Elena
We hope you will read, comment, link up,
and explore the stories of others who have linked.
When linking up, please show some JBE love and link back to us
with the BE badge for all to see.
Links to posts not related to Be Enough Me will be deleted.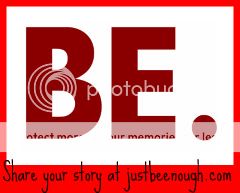 Every MONDAY join us…
Write, Post, Link-Up, share your story and your voice.
Be part of carrying the weight of confidence, empowerment and share our mission to empower, inspire,
and remind women, parents and children
that the time has come to celebrate ourselves!
What gives you that "be enough" feeling?